Check out the construction progress and fall colors down at the Mechatronic Solutions building in Maple Grove. The Larson Building, Inc project team has done a great job of maximizing the schedule and getting this building buttoned up before the weather turns. Together We Build!
> Together We Build
At Larson Building, "Together We Build" is our motto because we are ready to take the hassle and stress out of your project so that you can actually enjoy watching it all come together. With 22 years of expertise, our friendly and knowledgeable team of construction experts are ready to meet any challenge with a nimble and responsive approach.
Highland Bank celebrated the completion of its St Michael location, the latest in its commitment to modernize facilities and invest in the communities it supports.
Read More »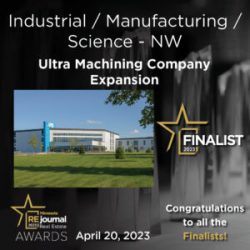 Larson Building recently partnered with Ultra Machine Company in Monticello, MN to Design-Build a 60,000 square foot building addition. This world class precision manufacturing facility was designed
Read More »